Needle work
Sewing
Here are some of the projects I made at 'Thimble Fingers' in Houston, where I was taking weekly evening classes.
Kimono Vest
I bought some silk in Paris and decided to make a kimono vest out of it. Back to Houston I found a Simplicity pattern close to what I had in mind. The pattern was for knits so I had to modify it quite a bit to get it to work with my silk. My sewing teacher shown me how to alter a pattern, and I made a first vest out of scrap fabric to test it. How course I made many mistakes along the way, even when working with the silk, but nothing that couldn't be undone. And here is the result. I'm very happy, it looks like what I had in mind. I stitched several Sashiko designs on it, it looks like a flower but it is in fact a crane.

I wore that vest at my brother's wedding.
Summer Pants
One summer in south of France my mom and I each bought a pair of pants. Years later we are still wearing them. I loved the design and now that I'm taking sewing classes I decided to recreate it, using silk curtains I bought on clearance at Bed Bad & Beyond. I embroidered the same Sashiko design as for the kimono vest (a crane), and made a Kumihimo braid. The original pants was in lightweight cotton fabric with an Indian inspired design, I modified it to have 2 layers of fabric (the silk was transparent) and added a yoke.

I posted a tutorial with the pattern and instructions. It is easy to sew, and doesn't require any special skills (no zipper).
Turbulette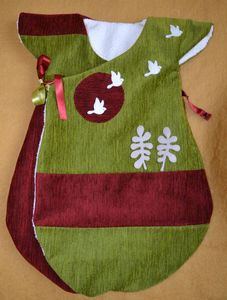 Each time I close my eyes, I open them again and I have one more nephew. I cannot keep making the same blanket over and over so next time I'll be ready with a pretty 'Turbulette'.
I posted a tutorial with the instructions. It is easy to sew, and doesn't require any special skills (no zipper).
Chaussons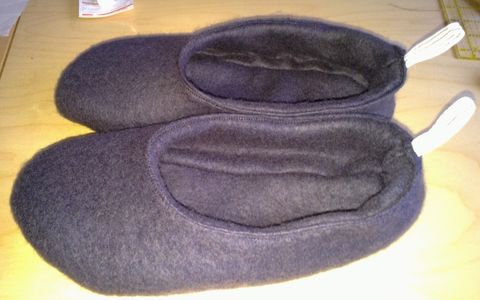 I posted a tutorial with the instructions on how to make slippers. It is a little complex to sew around the curves, and I always need to refer to my pictures to remember how to connect the lining and the outside fabric.
Crochet
My mother and grand-mother taught me how to crochet when I was little. I hadn't practiced for years, and then my first nephew was born (Eliot) and I decided to make him a crib, then of course I thought I needed a blanket to go with the crib...So I bought a crochet book and here I am!