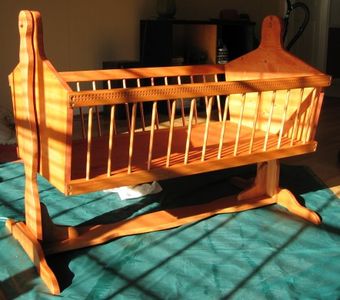 Eliot was born on October 2nd 2005. The first gift I made is a cradle. I spent some time looking for a pattern on the internet, I had never done any woodworking before so I needed something simple enough, I also wanted it to have an "heirloom" look. The pattern I chose comes from WoodcraftPlans .
My Mom made a very beautiful baby blanket (the third one, with the rabbits), in patchwork, that will look great on the cradle.
The second gift is a crochet blanket (winters are cold in Paris), you will find it at the end of the page.